Note: Please Click On the Header 
In order to avail the advantages of "ASSURED QUALITY" over conventional "CONTROLLED QUALITY", we provide fool-proof designed Poka-Yoke systems for your Process, Assembly and for individual components as well.
At parts assembly stations, where parts are assembled, it is almost inevitable that mistakes will occur. When assemblies are more complex and their Ingredient components varies largely, the problem of picking mistakes increase. With SmartX cutting edge technology, such potential mistakes can be easily eliminated, resulting into waste reduction, assured quality and productivity boosting. For e.g., with complete fool-proofing means, we integrate Labelling solution
so that final label will be printed only for OK part.
"Quality related demands from today's industry have never been so huge earlier, which made industry more focused on Quality assurance instead of conventional Quality control"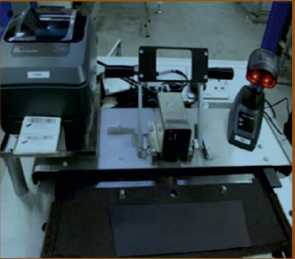 In present scenario, manufacturing industries are consistently facing the challenge of cost reduction might be achieved through productivity improvement. Considering the uncertain volumes, increasing labour cost, fluctuating demands and changes in customer needs, the challenge is not to merely level up one time but also to sustain the trend continuously.
Application Zones
Material Handling
Machine Tending
Material Removal
Dispensing
Automated Vision System
Custom/Process Equipment
Laser cutting/marking
Assembly
Inspection
Flexible feeding
Line Automation
Automatic robotic systems can be integrated seamlessly into an existing process,such as a conveyor,for applications like assembly.packaging, and production.
The introduction of robotics to an automated line can streamline production for greater efficiency and cost savings. Line automation with robotics cover a wide range of applications and solutions.
loT era, SmartX's latest IOT 4.0 Solution. The pre-processing, data acquisition, direct upload features etc are all combined into one. The various products help manufacturers in rapid deploying intelligent factory applications to gather the core information and wirelessly deliver it to Cloud platform. As the integrated hardware and software solution is complete and worth more than its cost allowing panel maker to quickly implement the production line monitoring system at reasonable price and convenient deployment method, the company will use other products of Advantech to complete loT applications and progress productivity of all factories around the world.
Automated Test Equipment (ATE) is a machine that is designed to conduct tests on various devices known as devices under test. An ATE uses control systems and automated information technology to speedily perform tests that quantify and calculate. ATE testing is usually used in wireless communication and radar as well as electronic component manufacturing. SmartX specialises in integration of offering complete system and sub-systems.